Career Path at JGC Vietnam
At JGC Vietnam, our employees have a chance to be cleared about their career path.
This infographic could sketch out the working development of our staffs.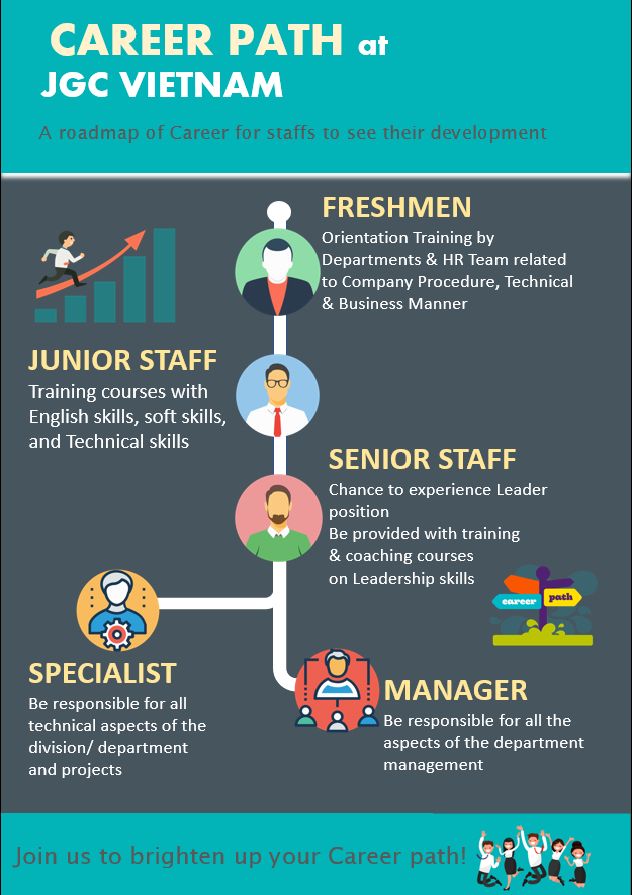 For freshmen staffs, Orientation training by departments as well as Human Resources team is provided. The courses related to company procedures, technical skills and soft skills will be the foundation for young employees to well adapt to working life.
With good performance and experience on projects and assignments, junior staffs will upgrade their position to the next stage as senior staffs/ engineers. The role of lead engineer will be opportunities for staffs to experience leading teams in projects and/or orders ranging from domestic to overseas, from small to middle and large-scale work.
After senior staff position, at JGC Vietnam, employees could choose to become Specialist of Manager. They will be supported with training courses, coaching or on-the-job training equipping knowledges and skills for new positions.